About Us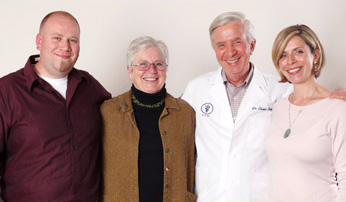 Schulhof Animal Hospital is a family owned full-service, holistically oriented, teaching animal hospital that has been operating at its current location in lovely downtown Westport, Connecticut, since 1946.
Over the years, we have made a number of important changes to our facility, both structurally and technologically. Our radiology and dental suites are equipped with the latest in digital x-ray equipment. We have created separated waiting, exam, and boarding facilities for cats and dogs in order to provide a more welcoming and less stressful environment for our furry friends. We have updated our grooming facility. And we continue to keep our surgical and dental suites as well as our exam rooms up to date with the latest medical equipment. Essentially, we have brought our hospital's resources to the point where they are similar in technology and quality to any that would be found in a human hospital.
Our goal throughout has been to ensure that we are capable of providing a superior level of service while staying on the leading edge of technological advancements in veterinary medicine.
At Schulhof Animal Hospital, we firmly believe that the key to preventing disease as well as effectively and compassionately treating illnesses is through a holistic and integrative approach toward veterinary medicine. That means we believe that your pet's environment, behavior, emotions, nutrition, particular sensitivities, and physical condition are all intimately related. And that there is a unique and complementary role that alternative therapies play when used in harmony with traditional medical practices.
As we develop a treatment plan for your pet, our veterinarians incorporate all of the factors underlying your pet's health and integrate this with our knowledge of traditional and complementary medical approaches. This means that in addition to thorough wellness exams and the appropriate use of vaccines, we may suggest therapies such as laser therapy, herbal and homeopathic remedies, nutritional approaches, and behavioral therapies to more fully meet your pet's health requirements.
In order to provide this superior level of veterinary medicine, we place great importance on hiring only the most highly trained and compassionate veterinarians and veterinary technicians. All of our medical staff is well-versed in the most modern techniques of dentistry, anesthesia, and veterinary medicine. Every one of our staff members undergoes continuing education throughout the year, and we also provide structured training programs for new employees.
We recognize that providing the highest quality veterinary care includes keeping you, our clients, at the center of all we do. Our veterinary assistants and pet care coordinators receive constant training to ensure you are provided with the highest level of customer service possible. After all, we are pet owners ourselves and understand how important it is to be received by a staff that is knowledgeable, welcoming, and courteous.
It is our goal not just to ensure the health and wellbeing of your pet into the future, but to be your partner in strengthening the bond you share with your pet. Please take a look around our website. Many of the services that we provide are listed here as well as bios of our doctors and administrative staff and a virtual tour of our Hospital. If you have any questions, would like to schedule an appointment, or are interested in becoming a candidate for employment, please give us a call at (203) 226-1231.